Hair is considered an adornment of the head, whether it is for men or women, but alopecia greatly affects the appearance, but we at Nadara Clinic provide you with the best dermatologists so that you can treat alopecia in Hurghada. Nadara Clinic is characterized by keeping abreast of medical developments, so you will find the latest methods of treating alopecia or ringworm of the scalp, and the doctor will diagnose the case and see the most appropriate treatment for your condition. You will find all solutions to hair problems from hair loss and dandruff. You will restore your hair again and get an attractive look with Nadara Clinic for dermatology, laser and cosmetology in Hurghada and the Red Sea.
4.8 out of 5 stars (based on 377 reviews)
What is alopecia areata?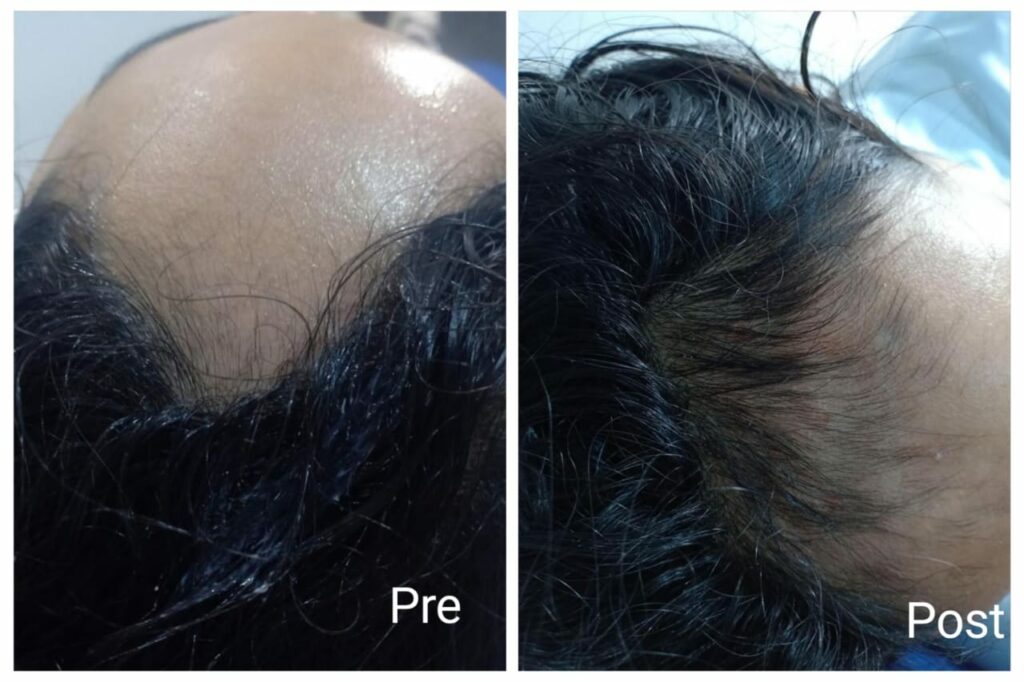 Alopecia is an autoimmune disease where the immune system attacks the hair follicles. Which leads to hair loss and baldness in certain places, and alopecia often occurs without disease. In some cases, alopecia may disappear on its own, and sometimes it may spread until all hair falls out. In addition, it may appear in several places on the body, especially the hair and face. The course of the disease also varies from person as some suffer from episodes of hair loss throughout their lives and the disease may disappear. More precisely, alopecia causes the anagen phase to be shorter than normal and the telogen phase to be longer than normal.
stages of hair growth
In order to tell you more about alopecia , you must be sufficiently aware of the natural stages of hair growth that are altered by alopecia. Where the hair follicle grows annually about 15 cm, or about 0.4 millimeters per day, but it goes through stages. These include the following stages:
The anagen phase: the cells of the hair roots divide and the hair follicle emerges from them. It continues to grow for 2 to 6 years. The stage of development varies from person to person. This applies to the scalp while the rest of the body is a shorter growth phase.
Catagen phase: It is a short transitional phase where hair growth stops and the root sheath shrinks for two or three weeks.
Telogen stage: It is called the late stage, where the follicles rest for 3 to 4 months.
Exogenous phase: about 8% hairs fall out at the end of the exogenous phase, which is normal, as 50 to 100 hairs fall per day. This stage lasts for 2 to 5 months. After that, a new follicle begins to grow and the anagen phase begins again.
Types of alopecia
Alopecia areata: Alopecia areata appears in the form of an irregular circle where the hair falls out suddenly, but alopecia can progress to the loss of the entire head of hair. Sometimes it includes body hair as well.
Cicatricial alopecia: Cicatricial alopecia is one of the most common types of black women. But now you can treat alopecia in the Red Sea in Hurghada. It also happens as a result of genetic genes sometimes, and hair loss is continuous, which leads to scars in the front of the head and in the back of the head as well.
Alopecia totalis: It is called alopecia totalis because it causes the entire scalp to fall out.
Alopecia totalis: In generalized alopecia, the hair falls out completely or semi-completely and appears in the scalp as well as the rest of the body.
People who have alopecia
Newborns as well as school-age children.
Contact of children with other children infected with ringworm, as the infection is transmitted from one child to another.
People who come into contact with pets, as animals also carry the infection.
Sufferers of martyrdom, which is a severe infection, where it is easy to pull and pull out the hair, but this is a reaction to the fungus.
Both men and women as well as all ethnic groups.
It may appear in the teens, twenties, or thirties, while children are in an advanced stage.
People with immunodeficiency diseases.
The causes of alopecia
Genetic factors.
Thyroid disorder.
Imbalance in the immune system, such as psoriasis.
Excess sensitivity.
Vitiligo.
Ulcerative colitis.
Rheumatoid infection.
Rheumatoid arthritis.
Ulcerative colitis.
Genetic factors.
Symptoms of alopecia
The beginning of hair loss from one place on the scalp without the rest.
Hair loss gradually in that area.
Spots in the head that increase in size with time
Weak, broken hair that falls out easily.
The appearance of circular, inflamed or crusty spots.
Alopecia Diagnosis
Care must be taken to choose the best dermatologist, as well as a clinic, hospital or medical center equipped with the latest equipment. Nadara Clinic for Dermatology, Laser and Cosmetology provides you with the best integrated and comprehensive medical team for many cosmetic and therapeutic specialties.
The doctor will examine the affected skin and may ask about your medical and family history.
Sometimes the dermatologist at Nadara Clinic may ask you to take a sample of the skin affected by alopecia or from the scalp for examination. This helps the doctor to find out if there is a fungus that led to hair loss or if it is alopecia.
The dermatologist at Nadara Clinic for Dermatology, Laser and Cosmetology will tell you the need to take a blood test to confirm that you have a disorder in the immune system that led to alopecia.
As we mentioned before, there are several reasons for hair loss and the appearance of hairless patches. Therefore, blood analysis helps to exclude other pathological conditions such as thyroid hormone disorders, iron levels in the body, erythrocyte sedimentation rate, follicle hormone, etc.
Preparations before treating alopecia in Hurghada
You must follow the instructions of the dermatologist before starting to treat alopecia, so that no complications occur and you get a quick treatment result. Among the most important of these preparations are:
Stop smoking.
Avoid applying hair or skin care products to the affected area.
Do not expose the scalp to sunlight so as not to cause burns that delay the possibility of treatment.
Avoid cosmetic injections in the affected areas so as not to have a negative reaction affecting the treatment.
Do not take blood thinners, which are medicines that contain aspirin and ibuprofen, as well as anti-inflammatory drugs.
Stop taking vitamins or nutritional supplements as well as herbal supplements so as not to affect your alopecia treatment in Hurghada.
 Alopecia treatment methods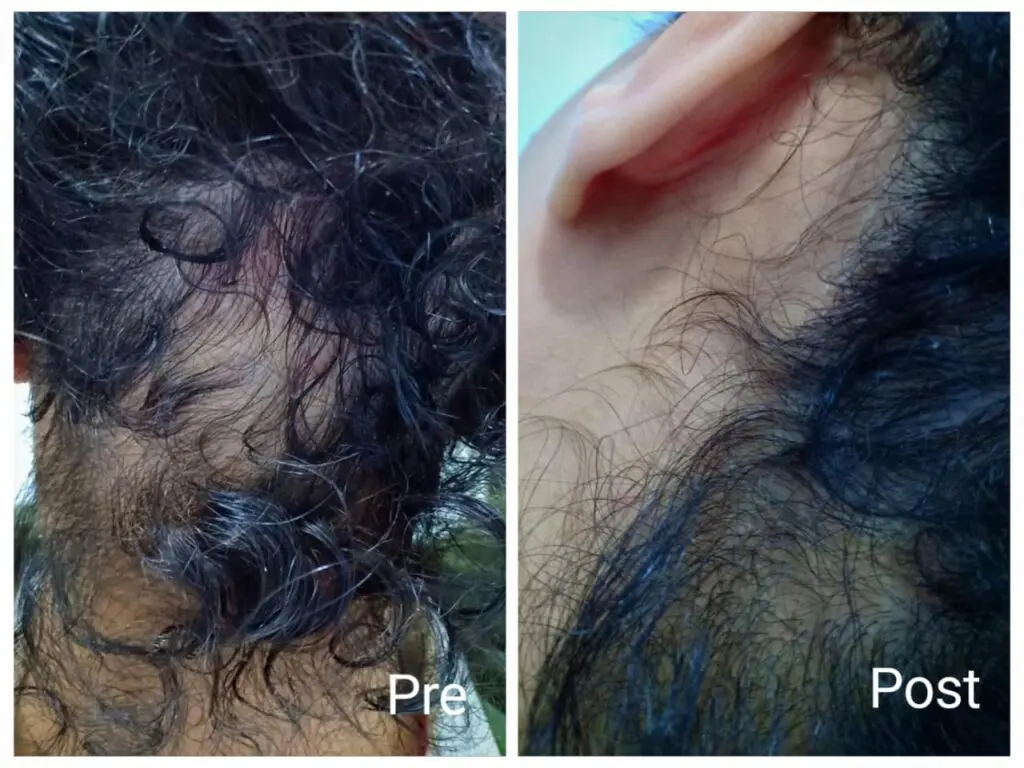 With the great technological development in the field of medicine, many medical methods used in the treatment of alopecia appeared in Hurghada. Therefore, Nadara Clinic provides you with the latest methods of treating alopecia, as well as the best plastic medicine doctors with scientific and practical experience. Nadara Clinic seeks to reach you to the highest levels of self-satisfaction as well as to restore your self-confidence. Among the most important methods of treatment such as:
First: treat alopecia with medications and topical treatments
The dermatologist at Nadara Clinic for Alopecia Treatment in Hurghada may start with effective medications and topical treatments directly, such as:
1- Topical immunotherapy
There are topical treatments that are placed on alopecia areas in the scalp and body, which works to cause an allergic reaction that results in stimulating hair growth. These treatments are used by a dermatologist only.
2- Corticosteroids
Steroids are among the appropriate treatments for alopecia, as it treats immune diseases. The dermatologist at Nadara Clinic in Hurghada injects steroids locally. Injections are done weekly, with a period of 4 to 8 weeks separating them. In addition to the possibility of using it as a topical cream or oral treatment.
3- Minoxidil
Minoxidil is used in the treatment of children with alopecia, as it is an effective treatment that stimulates hair growth. You may notice hair growth within 12 weeks.
4- Methotrexate
The doctor at Nadara Clinic prescribes methotrexate in advanced cases of alopecia, and it takes 6 to 12 months to restore hair growth.
5-Anthralin for the treatment of alopecia
Anthralin is used to restore hair growth, and your doctor may prescribe it with minoxidil.
6- Janus kinase inhibitors
If the body does not respond to the previous topical medications and treatments, the doctor will prescribe for you Janus kinase inhibitors. Where it works to treat alopecia. Examples of drugs that contain Janus kinase inhibitors are ruxolitinib, tofacitinib and paricitinib.
Second: hair restoration surgery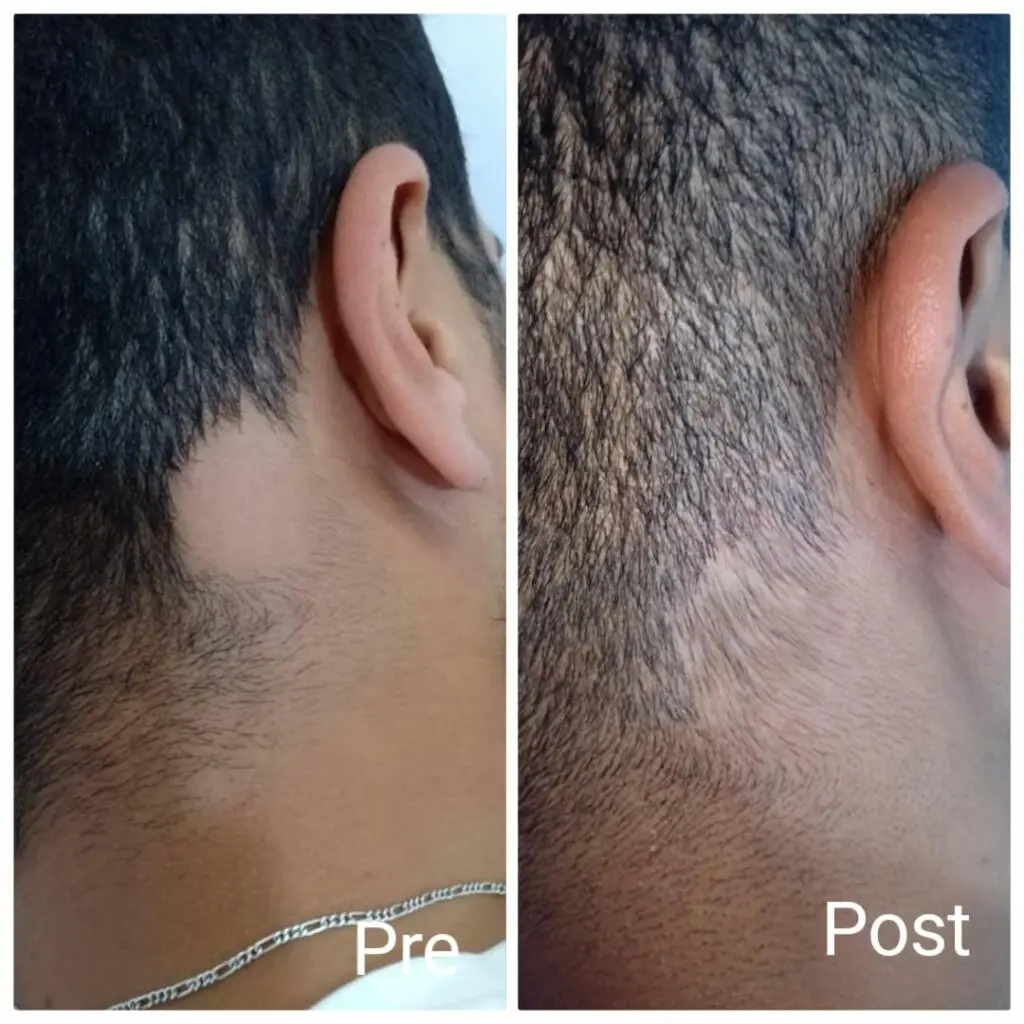 Hair restoration is the dream solution for all alopecia sufferers. But there is more than one way to restore hair and regain self-confidence. However, the idea of hair transplant involves the presence of hair donor areas in the scalp, so it is not considered suitable for people with baldness. Among these methods are:
1- Hair transplantation
Hair transplantation is one of the most successful surgeries to treat alopecia, as its idea depends on removing hair follicles (donor area) from the back of the head or the sides. Then implant it in the area affected by alopecia, but this may require a lot of time, as large hair follicles should not be removed. Only one or two hair follicles are transplanted.
You can also read: Hair transplantation in Hurghada
2- Flap surgery
If you have alopecia in large areas, the surgeon at Nadara Clinic in Hurghada will recommend flap surgery. Because it is the most appropriate treatment to hide bald areas caused by alopecia. The idea of flap surgery depends on removing a layer of the hair-bearing scalp, then removing part of the bald area and placing the hair-bearing scalp in its place. In addition, the original blood supply must remain in the flap. You will need a period of recovery from the effects of the surgery.
3- Expansion of scalp tissues
Scalp tissue expansion is done as a treatment for baldness caused by alopecia. You can have it done in a hospital or a plastic surgery clinic. However, care must be taken to choose the best beauty clinic in Hurghada, which is Nadara Clinic. Where there is the best plastic surgeon with great experience. The idea of expanding the tissues of the head relies on the use of a "tissue expander" device below the area where the hair is located next to the baldness area caused by alopecia. You will see results after a few weeks as the scalp tissue expands and new cells grow. Then the surgeon takes the last step, which is transferring the new cells to the bald area or alopecia.
4- Reducing the scalp
Scalp reduction surgery is one of the most common surgeries in the treatment of alopecia and hair restoration. Its idea is to remove the bald scalp as a result of alopecia . Then the scalp area is stretched to cover the bald area at the back and top of the head. The surgeon may also use hair transplantation in combination with scalp reduction surgery.
You can read more about: Hair transplant in Egypt
Third: Excimer laser for alopecia
Excimer laser or cold laser is used to stimulate cells and tissues effectively and is also called "red laser" or "low level laser" (LLLT). Laser is included in many medical treatments because of its safety and effectiveness, and it eliminates the need for surgery and its risks. You can now use a laser to stimulate hair follicles to grow. Where the surgeon shines low-energy laser beams on the areas affected by alopecia. The specialist doctor also chooses the appropriate wavelength for the condition of each patient. Which stimulates blood circulation and stimulates collagen. Which helps in hair restoration and growth again.
Fourth: Mesotherapy injections to treat alopecia
As we mentioned before, there are many ways to treat alopecia, and one of the most important of these methods is mesotherapy injections. Where the plastic surgeon at Nadara Clinic for Dermatology, Laser and Cosmetology injects a group of vitamins, minerals, folic acid, as well as zinc and biotin. Which stimulates blood circulation and nourishes the scalp to resist alopecia and start germinating hair follicles again.
Fifth: Alopecia treatment with plasma
Plasma is used in many treatments that target the skin or scalp in particular. Where platelet-rich blood is extracted from a sample of the patient's blood. Then it is fed and injected again into the alopecia area of the head, which works to regenerate cells and tissues and grow hair again. However, all plasma sessions must be performed to treat alopecia, and the plastic surgeon will tell you the number of plasma sessions required for your condition.
Sixth: Phototherapy in Hurghada
There is also a technique of treating alopecia with light, also called photochemotherapy or radiotherapy. In this treatment, the dermatologist will prescribe oral medications
You can also read: Forehead Reduction in Hurghada
Side effects after alopecia treatment in Hurghada
You will feel some temporary side effects after treating alopecia with any of the previous methods, such as hair transplantation, laser treatment, flap surgery, and mesotherapy. The side effects will not last and will end by following the instructions of the dermatologist at Nadara Clinic for Dermatology, Laser and Cosmetology in Hurghada and the Red Sea. Among these side effects are:
Redness of the target area.
Pain in the treated area, but the doctor will prescribe painkillers for you.
Feeling itching as a result of germination of the follicles.
Swelling of the scalp.
Instructions after treatment of alopecia in Hurghada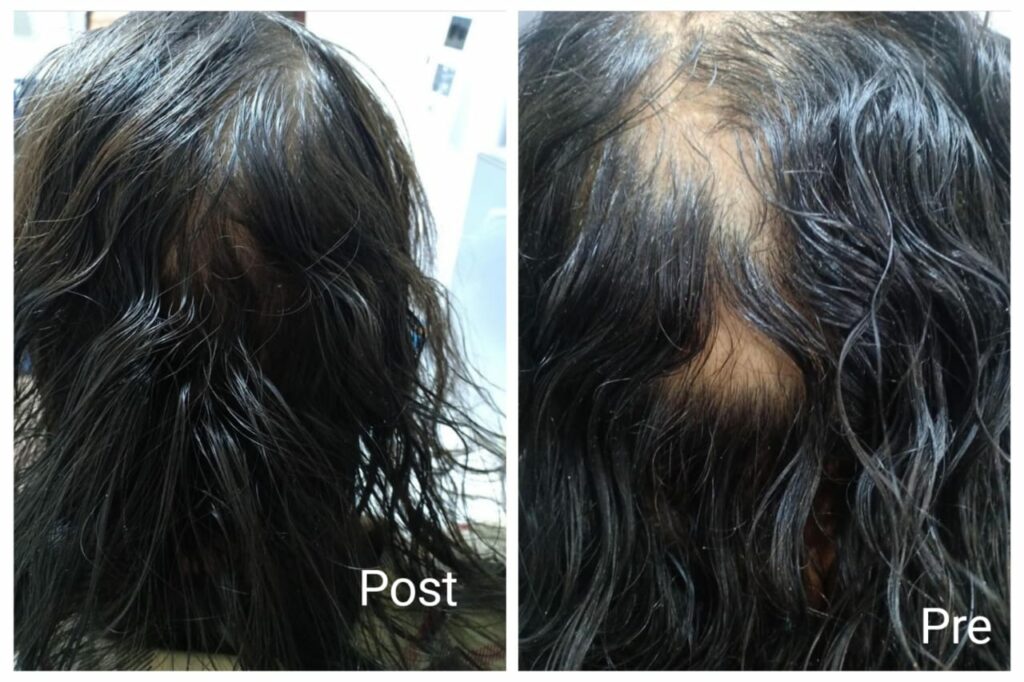 The treated area should not be exposed to sunlight.
Avoid pressure on the scalp.
Do not wash the scalp except after consulting a plastic and dermatological surgeon at Nadara Clinic.
Eat healthy, balanced food and drink appropriate amounts of water.
Take the medicines prescribed by the doctor until you recover quickly from the side effects.
Avoid trying to pull out the growing follicles.
Resist the itchy sensation.
Avoid sleeping on the treated areas.
Tips for nourishing hair
Eat omega rich, which is abundantly found in fish.
Make sure to eat vegetables rich in green color because they have great benefits for hair.
Eat legumes as they are rich in protein that promotes hair growth.
Take vitamin B12, which nourishes hair well.
Nuts are also one of the foods rich in many benefits for hair health.
Avoid destroying hair with dyes, blow-drying and ironing.
Do not wash your hair too often so that it does not lose its beneficial oils.
Best doctor for alopecia in Hurghada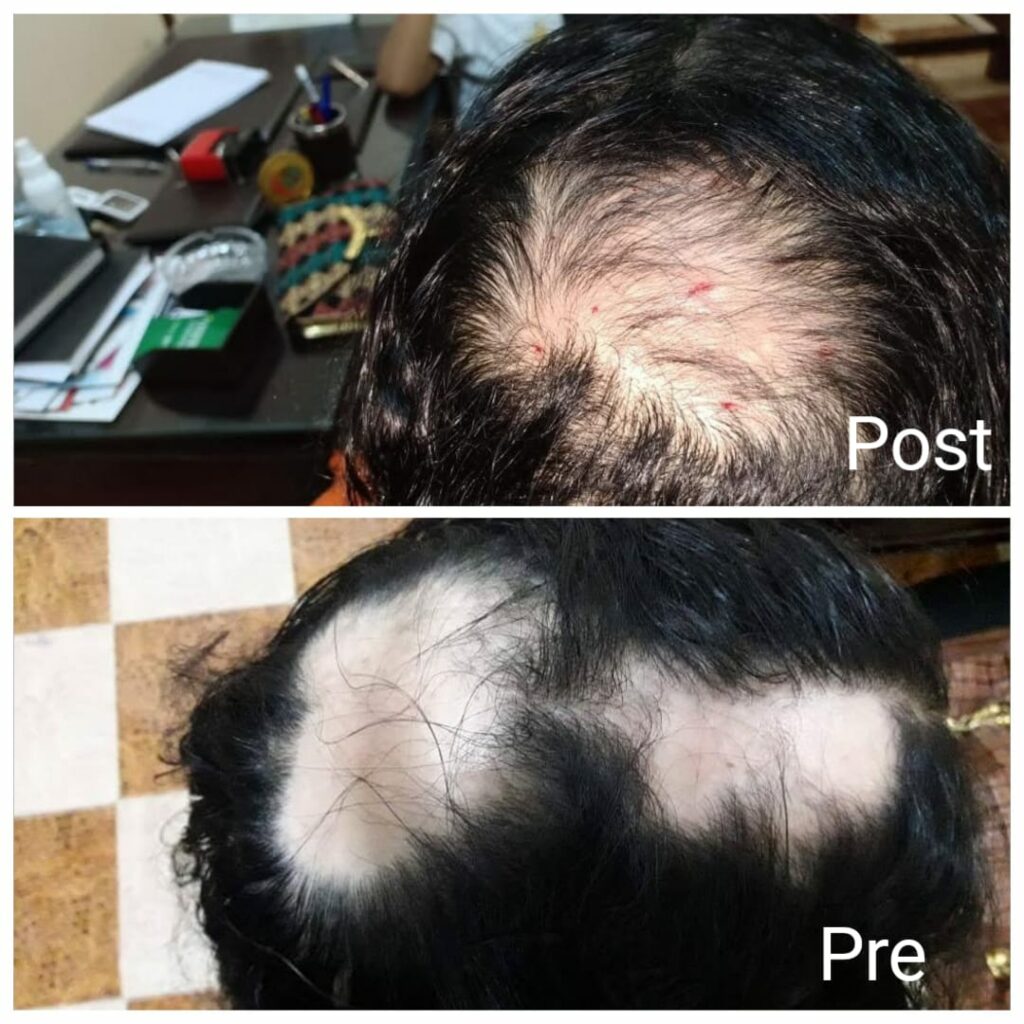 If you have alopecia and it affects your life and activities as well as your self-confidence, you do not have to worry anymore because we provide you at Nadara Clinic for Dermatology, Laser and Aesthetics with the best cosmetic doctors. The doctor will confirm the presence of alopecia due to the similarity of its symptoms to other diseases such as fungus or hair loss and oily dandruff Or genetic baldness and others. So the doctor will take a biopsy and look at the patient's scalp. Then he determines which treatments are appropriate for your condition. You will restore your attractiveness, whether you are a man or a woman, you will be more attractive and self-confident.
In addition, the Nadara Clinic offers many treatments for immune diseases, such as psoriasis treatment and treatment of vitiligo As well as all skin diseases such as eczema, acne and freckles And treatment of varicose veins and also goose skin.
Not only that, as there are the best plastic surgery doctors to treat many conditions such as the procedure eyelid tightening Removing bags under the eye, , tummy tuck, breast reduction, breast augmentation, butt augmentation, as well as plasma injection.
In the end, you will be in safe hands at Nadara Clinic, the best plastic surgery clinic in Hurghada and the Red Sea. Where there are all modern medical equipment and devices used in the treatment of alopecia permanently. There is also the best selection of doctors, so that the service is integrated, as there is a plastic surgeon, a dermatologist, and other specialties that you will benefit from. what are you waiting for? Get ready for a different life after treating alopecia permanently at Nadara Clinic for Dermatology, Laser and Cosmetology in Hurghada and the Red Sea.
FAQs
How can I book an appointment for alopecia treatment in Hurghada?

You can contact us or send WhatsApp And book the closest time with the best dermatologists in Hurghada at Nadara Center for Dermatology, Laser and Cosmetics.

What are the reasons for the appearance of alopecia in the hair?

 Alopecia appears as a result of weak immunity and a disturbance in it, which causes the immune system to attack the body, especially the hair follicles.

What is the treatment for alopecia areata?

Alopecia areata can be treated with some medications, such as corticosteroid injections, as well as minoxidil, which is applied directly to the skin.

How can you stop alopecia from spreading?

You can consult a dermatologist at Nadara Clinic for Dermatology, Laser and Cosmetology, where he will tell you the appropriate treatment for your condition. He will start giving you immunosuppressants such as tofacitinib or ciclosporin.

Alopecia are you dangerous?

Alopecia is not a dangerous disease, but it is an immune disease that may indicate a disorder of the immune system. It may become dangerous if it spreads widely to more places on the scalp and body.

Can alopecia be cured?

There are many ways to treat alopecia with topical treatments or medications. You can also grow hair or reduce the forehead to hide alopecia spots from the scalp. In addition to the presence of light and laser therapy.

What are the types of alopecia?

There are four types of alopecia : alopecia areata, alopecia scar tissue, alopecia totalis .

Does alopecia cause itching in the head?

One of the symptoms of alopecia is itching, especially universal alopecia, which spreads to large areas of the body.

Is alopecia hereditary?

The main cause of alopecia is a disorder of the immune system.

Is alopecia contagious?

Alopecia is not a contagious disease as some think, but it is an immune disease where the immune system attacks the hair follicles in a specific area.