---
What is the Scarlett device?
The Scarlett device is a minimally invasive treatment designed to produce the effects of skin tightening by delivering radiofrequency (RF) energy to tissues under the skin through microneedles. Each microneedle acts as an electrode that sends pulses of radiofrequency energy into the dermis, generating heat that stimulates collagen production.
These treatments are comfortable, safe, and by working within the deeper layers of your skin, the Scarlett device achieves long-term results that go beyond topical regeneration.
---
Benefits of using the Scarlett device
To use the Scarlett device on any part of the body, there are many benefits that make it superior to other beauty devices:
Less pain and downtime than other micro lancing devices.
No bleeding or other side effects.
The technique is applied to three areas: the face (including the eyes), the scalp, and the entire body.
Tightening and lifting of skin tissue.
It dynamically treats a number of skin concerns, including wrinkles, scars, acne, loss of skin elasticity, and more.
Low cost.
---
Who is a good candidate for the Scarlett Technique?
Anyone looking for a quick and simple treatment that targets wrinkles and signs of aging should consider trying the Scarlett. This treatment technique can be customized to suit each patient's individual needs, so you can be sure that you receive the best possible care. In addition, this treatment works well on all skin types.
---
Are there contraindications to the use of Scarlett?
This treatment should not be done if you have an implantable metallic electrical device, such as a pacemaker or defibrillator. It should also be avoided if you are pregnant or breastfeeding. Additionally, if you have experienced keloids, or delayed healing, you are not a candidate, nor do we treat clients with a history of skin cancer in the areas to be treated.
---
How to prepare for micro-needling technique with radiofrequency
We recommend avoiding blood thinners (NSAIDs) for one week before using the Scarlett device, and avoiding lasers, LED light therapy, or chemical peeling for 4 weeks before treatment.
Avoid all skin care products that contain retinol for 4 weeks, and stop using Accutane 6 months prior to treatment. Furthermore, drink plenty of water for the 4 days before the treatment, and avoid exposure to the sun for 2 weeks before that.
---
How does the Scarlett device work?
The Scarlet treatment works by delivering radiofrequency energy precisely to the lower layers of the dermis using a microneedle. Micro-needling is initiated first at the surface of the skin, penetrating the skin at a customizable depth, ranging from 0.5 mm to 3.5 mm, depending on the desired area.
Frequency energy is released to the treated areas to activate the renewal of collagen and elastin materials present in the skin. Here are some of the important points that happen during or after a Scarlett session:
The Scarlett device is used to rejuvenate the skin, improve its elasticity, and treat acne scars by using the reserve power of healthy tissue surrounding the treatment area.
The treatment does not affect daily life, but after treatment, redness and swelling lasts from 1 to 3 hours.
With advanced technology, powerful energy is delivered directly to the target area. It covers the entire face: the middle of the forehead, sagging cheeks, the areas around the eyes, and the jawline.
You can also read: Benefits of golden plasma for hair"
---
When should I expect to see results from the Scarlett device?
The result of skin tightening is visible immediately, and the results of skin remodeling appear gradually in the context of new collagen, elastin fiber repair, and vascular remodeling. For most clients, measurable results appear gradually within 2-3 months. Results last from 6 months to a year after the treatment series depending on your skin condition and aging process.
You can also read: Freckle marks and their treatment"
---
My experience with the Scarlett device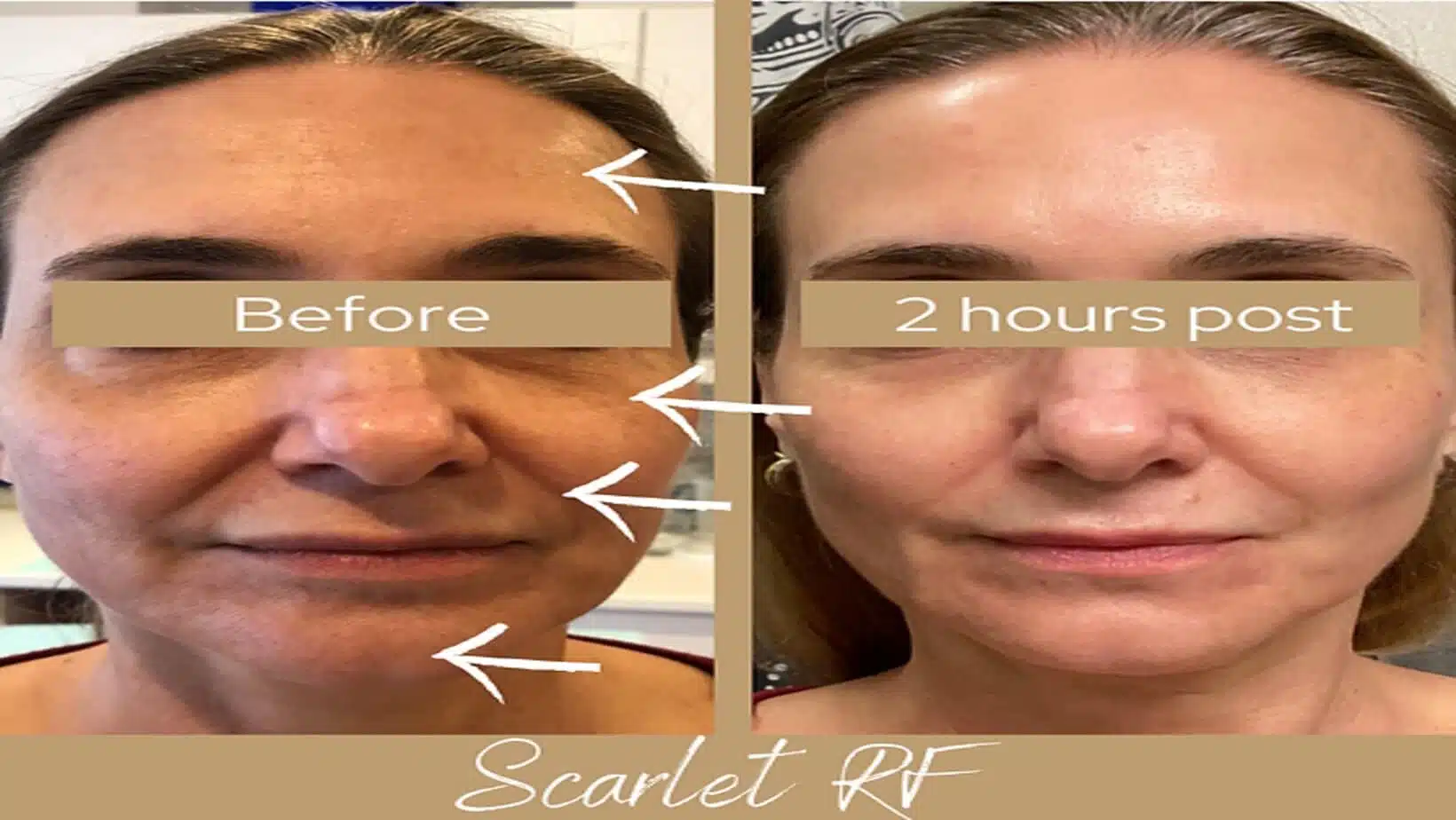 I'm in my fifties and when I lost 40 pounds my neck and face seemed to sag even more. The team of Nadhara Skin, Laser and Cosmetic Center in Hurghada told me about the Scarlett device and I decided to try it; Because I am always looking for safe ways; To help fight aging.
The center had a great special show, and I was happy; Because I subscribed to these treatments. I chose a freshness center for dermatology, laser and beauty in Hurghada for my treatment with the Scarlett device; Because I've been a client for a number of years, and I also regularly bring my daughter for a treatment Acne. All the staff are excellent, and I can go on and on about how absolutely amazing each of them are! I always have a great experience at Freshness Centre.
I was impressed that the Freshness Center team took pictures before and after the session so I could see the difference, my pores had reduced, my skin was fresher, and less saggy, and without looking at these pictures I noticed the changes after my first Scarlett session, especially in my neck. The lines on my forehead also diminished.
You can also read: nail fungus"
---
If you want to use Scarlett device; This revolutionary treatment device for acne scars and wrinkles, please contact the Freshness Center for Dermatology, Laser and Cosmetic in Hurghada to schedule a consultation and discuss the treatment plan.