what color is Your skin? If you say red or pink, you may be infected rosacea (Rosacea), a condition that can make you look flushed all the time, and the best way to find out for sure is to consult an experienced dermatologist, such as Dr. Amani Al-Tawabti at Nadhara Skin, Laser and Cosmetic Center in Hurghada.
---
What is rosacea?
Rosacea, or rosacea, is a common skin disease that causes redness and acne-like bumps in the middle part of the face. It can also develop on the cheeks, nose, forehead, and chin, and sometimes spreads to other parts of the body, such as the ears, back or chest.
This is a chronic inflammatory condition. Once rosacea appears, flares can occur at any time. The extent and severity of flares varies, and some sufferers have symptoms that last for a few weeks, and others last for a few months.
Being diagnosed with rosacea can be upsetting, but the more you know about the condition, the easier it will be to deal with it.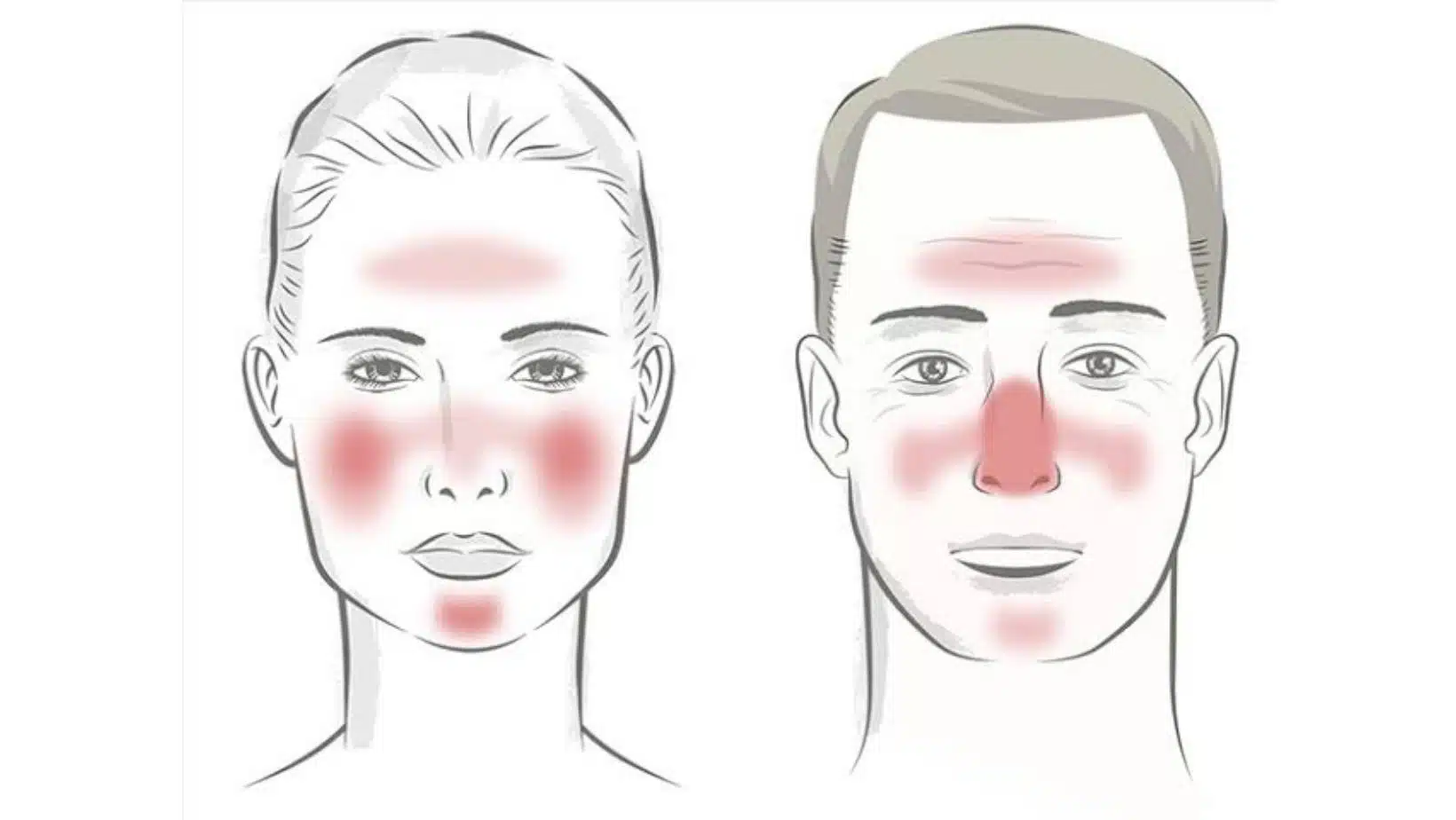 ---
Types of rosacea
The main types of rosacea on the face are:
Erythematous rosacea related to telangiectasias: redness of the skin with visible blood vessels
Papular pustular: redness and swelling with acne-like bumps.
rosacea: thickened skin with bumps
Ocular rosacea: eyes that are red, irritated, with swollen eyelids.
---
Causes and risk factors of rosacea
Although the exact cause of rosacea is unknown, it usually affects people with these characteristics:
Age: Rosacea is usually diagnosed between the ages of 30 and 50.
Gender: Women are more likely to develop rosacea than men.
Skin tone: People with fair skin are more prone to rosacea.
Ethnicity: People of Irish, English, Scottish, Scandinavian, or Eastern European ethnicity are at greater risk.
Family history: People who have family members with severe acne or rosacea are at higher risk.
Personal history: People who have experienced severe acne, such as cysts or nodules, are most affected.
Some factors can trigger or worsen rosacea, such as:
Hot drinks or spicy foods.
alcohol consumption.
temperature extremes.
sunlight, or wind.
emotions.
Playing sports.
makeup.
Medicines that dilate blood vessels, such as some blood pressure medications.
---
Facial rosacea signs and symptoms
Recognizing the disease and seeing a doctor is the first step to controlling it. Self-diagnosis and self-treatment are not recommended, especially since some over-the-counter skin treatments may make the problem worse.
Rosacea often begins with episodes of skin redness, and as the condition progresses, the skin becomes constantly red, and spider-like veins become visible on the skin. Other symptoms of rosacea may include:
blisters that may be hard (papules) or filled with pus
Dry and flaky facial skin.
burning of the skin;
Red, painful eyelids and a tendency to boil and conjunctivitis.
swelling of the face and eyelids;
In advanced cases, the pores of the skin may become prominent, and the nose may be disproportionately enlarged (rhinophyma); due to the thickness of the skin.
Rosacea can have a similar appearance to acne, but the two conditions are unrelated. Rosacea does not result in the blackheads, deep cysts, or lumps that are a symptom. Acne.
---
Rosacea complications
Rosacea can lead to complications if left untreated, as the redness may gradually worsen or become permanent. Furthermore, untreated rosacea increases your risk of developing enlarged skin around the nose, so talk to your doctor about any redness that does not go away, or redness that comes and goes. Ocular rosacea can also lead to complications in the cornea, which can eventually lead to vision loss.
---
How is rosacea diagnosed?
There is no specific medical test to diagnose rosacea, but your doctor can make the diagnosis after performing a physical examination of your skin, evaluating your family history, and ruling out other conditions. If you have symptoms of ocular rosacea, you may also need to see an ophthalmologist.
You can also read: Tine versicolor and its treatment"
---
Rosacea permanent cure
The mainstay of rosacea treatment are oral antibiotics, which are commonly used for a range of skin conditions. The course of treatment usually takes six to 12 weeks. Repeated courses of antibiotics may be required.
Antibiotics are thought to work by reducing inflammation in small blood vessels and skin structures. Severe cases are also treated with higher doses of antibiotics. In addition, a range of other treatments can be used to reduce inflammation, facial redness, and other visible symptoms.
When followed correctly, rosacea treatment should be noticeable within three to four weeks of starting the antibiotics. Once symptoms are under control, a long-term antibiotic rosacea ointment or cream may be prescribed.
In some cases, rosacea can recur, while in others it can go away completely. But if left untreated, rosacea will worsen and become more difficult to treat.
The success of treatment depends on how early rosacea is diagnosed, and whether the full course of treatment is followed correctly. In advanced cases of rosacea, surgery to treat rhinitis by reshaping the nose may be considered.
You can also read: Skin cancer and methods of detection"
---
Skin care with rosacea
To help prevent further irritation of rosacea, and promote healthy skin, these general steps can be followed:
Gently cleanse your skin twice daily with a gentle, soap-free cleanser.
Avoid oil-based cosmetics, which require solvents to remove.
Use alcohol-free facial products.
Quit smoking, avoid Passive smoking.
Avoid alcohol, hot drinks, and spicy foods.
Protection from exposure to extreme cold and high temperatures.
Use a non-irritating sunscreen with SPF 30 to protect your skin from the sun.
Reduce stress levels.
You can also read: Scarlet treatment for acne scars"
---
Frequently asked questions about rosacea
Is rosacea an autoimmune disease?
In rosacea, the inflammation targets the sebaceous glands, which is why it is likely to be described as an autoimmune disease.
How can rosacea be treated naturally?
Turmeric, ginger, aloe vera and raw honey can be combined to make a variety of soothing topical mask treatments on the face and extremities.
Essential oils, such as tea tree, lavender, eucalyptus, chamomile, and thyme, have anti-inflammatory properties and provide the added benefit of aromatherapy. You can put a dab of one of these oils on your temples or inside your wrists before bed, breathe in and fall asleep.
---
Depending on the severity of symptoms rosacea (Rosacea), your social and psychological conditions may be affected, but beware of the discomfort in the presence of a freshness center for dermatology, laser and cosmetic in Hurghada, with us, your condition will be managed and managed properly.