hair stem cells; Is your hair falling out and clogging your bathtub? Have you seen your scalp lately? You are not alone, many men and women are experiencing hair loss by the age of 50, with age, genes, stress, hormones, and environmental toxins working against you, you need a strong hair restoration treatment to prevent any kind of hair loss without the side effects of medications Or the risks and costs of surgery.
---
What are hair stem cells?
Stem cell or root cell hair restoration procedure is a procedure that encourages your natural hair growth using your body's stem cells! Stem cells in your body are tasked with healing and treating tissues, as they can transform themselves into any cell.
The fat layer below the skin is inhabited by an infinite number of stromal stem cells. Thanks to technology, these cells can be harvested in order to take advantage of their regenerative properties. When inserted into areas of thinning hair, they can help regenerate hair follicles to restore proper hair growth.
---
Advantages and disadvantages of scalp stem cells
Benefits of stem cell therapy may include:
It is a normal procedure.
This procedure does not require anesthesia or local anesthesia only.
Fast and more effective procedure.
It does not cause scars.
The patient can return to his normal activity once the stem cell injection process is over, which leads to a quick recovery.
However, neither procedure is without drawbacks, and the disadvantages of stem cells are as follows:
Inflammation may appear in the injection areas, depending on the patient's condition.
The need to repeat the stem cell injection process after a few years.
The hair may grow out completely or remain at the same short height.
Scalp fibrosis may appear, which reduces the success rate of hair restoration.
---
Who is the ideal candidate for stem cell therapy?
Both men and women can agree to a stem cell treatment to improve hair thickening. Stem cell hair restoration is typical for patients who have a few tufts of hair on the scalp.
Patients suffering from alopecia areata, hair loss due to hormonal changes, male or female pattern baldness can undergo treatment with these cells. Our doctors will discuss whether root cell hair regrowth is right for you during the consultation at the Freshness Center for Dermatology, Laser and Aesthetics in Hurghada.
You can also read: Mesotherapy for hair problems"
---
How do root cells restore hair density?
This technique can regrow hair through a combination of stem cell therapy and platelet rich plasma therapy. The layer of fat under the skin contains a large amount of stem cells.
While restoring your hair with this technique, small amounts of excess fat are extracted from the body using liposuction. Small cannulas are inserted under the skin through small incisions; Then, fats rich in stem cells are harvested.
by device Centrifuges, a stem cell sample is concentrated and separated for purification. Then, the purified stem cells are combined with the platelet-rich plasma present in the blood. Stem cell mixture andplatelet rich plasma In the scalp, it proceeds to interfere with your existing hair follicles and repair them and stimulate hair growth. The mixture also stimulates the stem cells in your scalp to restore the delicate tresses.
The fat extraction process takes only about 20 minutes. The patient can then relax, sleep and read or check his phone while the stem cells are being prepared. Re-injection usually takes about an hour, depending on the size and number of areas to be treated. The entire stem cell hair restoration process may take as little as two or three hours.
---
Stem cell technology side effects
Stem cell hair loss treatment is not only safe and painless, but there is little or no recovery period, and few side effects are known. Since this method is a 100% natural remedy derived from the patient's own cells, there is no possibility of an allergic reaction.
Some patients may notice small marks at the site of the liposuction procedure, but carefully following the aftercare instructions will reduce the possibility of scarring. Some patients may also experience some minor pain after the effect of the anesthetic wears off. However, this can be easily managed with over-the-counter medications, such as Tylenol, as it resolves within a few days.
You can also read: Hair plasma sessions"
---
The results of hair restoration with stem cells
Results depend hair loss treatment With root cells, each patient's healing process depends on the degree of hair loss being treated, the size of the area, and even the speed at which the patient's hair grows. However, the majority of cases report that they notice the start of new hair growth over only a few weeks, while some may have to wait a few months to see visible results.
You can also read: Hair Transplant"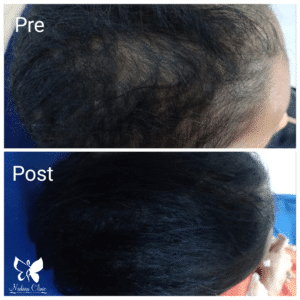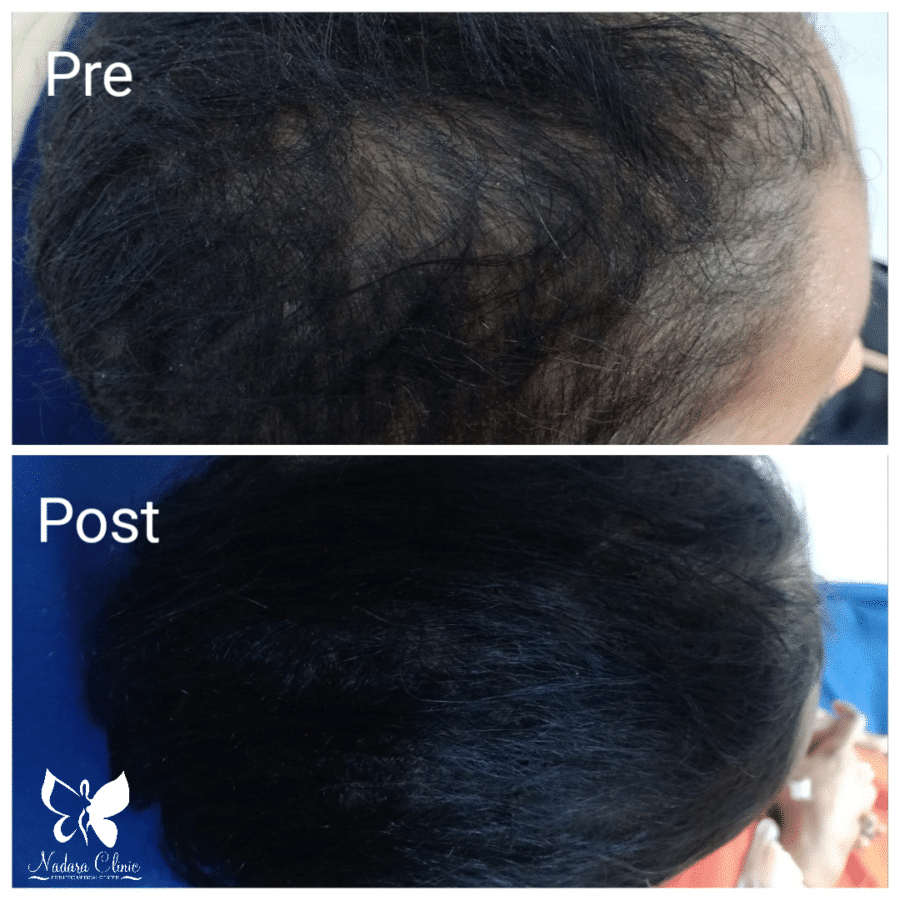 ---
Hair stem cell session price
Dr. Amani Al-Tawabti and her team at Nadhara Skin, Laser & Aesthetic Center in Hurghada are looking forward to working with you to develop cosmetic goals that help you look and feel your best. As for the costs associated with stem cell hair restoration, they vary by patient, and will depend on your unique needs.
You can also read: Hair dye and its risks"
---
Dr. Amani Al-Tawabti and her team at the Freshness Center for Dermatology, Laser and Aesthetics in Hurghada seek to help patients who want treatment hair stem cells To make the right choices when preparing to undergo treatment, we are fully committed to providing both surgical and non-surgical treatment for men and women who suffer from hair loss.