Even after sticking to a diet and exercise program and getting rid of most of the excess fat, many people are still not happy with the appearance of the abdomen, and this is one of the most common complaints we hear as plastic surgeons at nadara clinic for Dermatology, Laser and Cosmetic in Hurghada. Stubborn with good skin tone and a flat abdominal wall, Liposuction It is the best treatment.
What is liposuction?
Liposuction is a type of plastic surgery that removes fat from under the skin. This procedure is not a method for weight loss and does not remove fat from other parts of the body, such as visceral fat around the organs.
This procedure changes the shape of specific areas of the body by removing fat from those areas. It is most commonly used for the thighs, buttocks, abdomen, arms, neck and under the chin, but also for the back, knee, chest, cheek and ankles. Some people also undergo it at the same time as other plastic surgery procedures such as a face lift, breast augmentation or a tummy tuck.
Who is a candidate for liposuction?
People of any gender can undergo this surgery. For men, providers may recommend B for gynecomastia and enlarged breast tissue. So if you're considering liposuction, it's helpful to have realistic expectations and goals. The procedure treats specific areas of the body, but it doesn't prevent you from gaining or regaining weight.
Candidates for this procedure must be non-smokers and have:
Average weight or slightly above average.
Firm and elastic skin and good muscle strength.
Good general health.
Pockets of fat that have not responded to diet and exercise.
Who may not be a candidate for liposuction?
People with cellulite have poor skin quality, so they are not usually candidates for liposuction. This procedure alone cannot improve saggy skin, although providers may recommend it with the removal of excess skin after significant weight loss.
How do I prepare for liposuction?
To prepare for the operation, you must ensure that you have as much information as possible about the operation and know the results you can realistically expect. You must also reach your optimal weight and be as healthy and fit as you can to recover from the surgery, and if you smoke, you must quit.
Discuss with your doctor if you need to make any changes to your medications before liposuction surgery.
What happens during the operation?
There are many different techniques available to surgeons today at nadara clinic for Dermatology, Laser and Aesthetics in Hurghada. The main difference between each type of liposuction is the technology they use to aid in the fat removal process. Just remember that the skill and experience of the plastic surgeon who performs it at the Freshness Center for Dermatology, Laser and Aesthetics in Hurghada will make the biggest difference in your results.
Here are some of the most common types that plastic surgeons use today:
bulging liposuction
Using this technique, the plastic surgeon injects an anesthetic solution "epinephrine" into the treatment area to reduce bleeding and discomfort during the procedure. Depending on the patient, the procedure is often performed with local anesthesia.
Ultrasound-assisted liposuction
This technique uses ultrasound energy to help break up and break up fatty tissue from the body, allowing larger amounts of fat to be removed with faster surgery, and may include Vaser liposuction.
Laser-assisted liposuction, known under brand names such as SmartLipo and Slimlipo, uses laser energy to help expel fat cells.
Liposuction-assisted fat removal
This technique uses a suction device to help remove fat. Suction with the power of the device is a similar technique that includes a device that enhances the movement of the cannula used to remove fat.
What happens after the operation?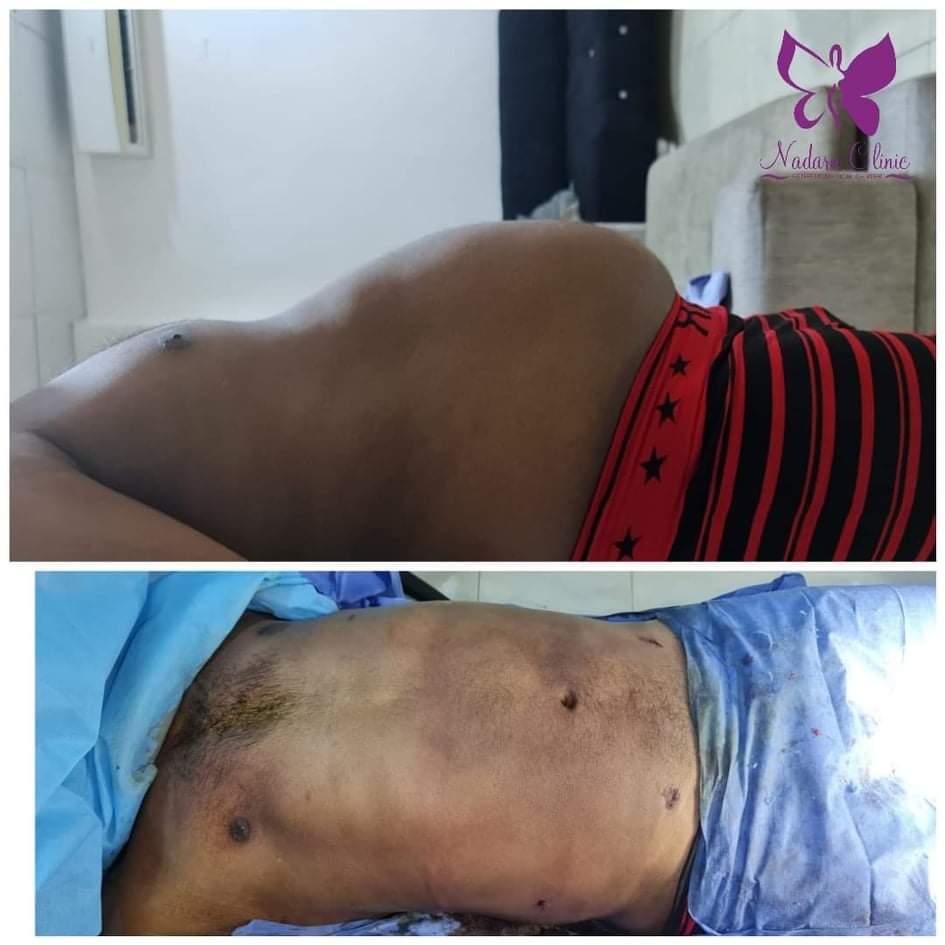 You will need a few days of rest at home after the procedure. There will be dressings on the wounds and you may have to wear an elastic bandage or a compression bandage for a while; To help the skin contract and heal. You should also expect to feel pain for several days and your doctor will prescribe some form of pain reliever.
However, some people may need a short hospital stay after the procedure. After the surgery there will be some swelling. Once this settles, you'll be able to see results, and changes can be made for up to 6 months after surgery.
The operation usually does not need to be repeated, there may be excess skin after the surgery, and an additional procedure may be needed to remove it if necessary. However, the skin usually shrinks and tightens after the procedure.
You can also read: The best dermatologist in Hurghada - Freshness Center"
Liposuction risks
It is a serious surgery with multiple risks. Therefore, it is important to discuss all risks with your doctor at nadara clinic for Dermatology, Laser and Aesthetics in Hurghada before the procedure.
Risks during surgery
Risks of aspiration during surgery include:
Puncture wounds or injuries to other organs.
Anesthesia complications.
Burns from equipment, such as ultrasound probes.
nerve damage;
Shock.
the death.
Immediately after surgery risks
The risks of liposuction after the procedure include:
A blood clot in the lungs.
Too much fluid in the lungs.
infections.
Hematoma (bleeding under the skin).
Seroma (fluid seeps under the skin).
Edema (swelling).
Skin necrosis (death of skin cells).
Reactions to anesthesia and other medications.
Heart and kidney problems.
the death.
Risks during recovery
The risks of this procedure during recovery include:
Problems with the shape or features of the body.
Wavy leather.
Numbness, bruising, pain and swelling.
infections.
fluid imbalances.
scars;
Changes in the feel and feel of the skin.
Skin discoloration.
Healing problems.
You can also read: platelet rich plasma for face"
Long term side effects
Long-term side effects of liposuction can vary, as it permanently removes fat cells from targeted areas of the body. Therefore, if you gain weight, the fat will still be stored in different parts of the body. New fat can also appear deeper under the skin and can be dangerous if it grows around the liver or heart.
Some people experience permanent nerve damage and changes in the sensation of the skin. Others may have depressions or gaps in the areas that were suctioned, or they may have wavy skin that doesn't go away.
You can also read: Chemical Peeling Session"
Balance, proportion and body shape are essential elements of an attractive human figure Liposuction, the plastic surgeon at nadara clinic for Dermatology, Laser and Aesthetics in Red Sea Governorate can sculpt better shape for almost any area of the body, and achieve significant improvements with minimal changes.